Service centers make their software platform smarter with CAD/CAM integration
There is a lot of potential for digital solutions in the metals industry, according to a recent survey by McKinsey and Co., which collected perspectives from 30 leading metals companies around the world. The results showed that there are five main success factors to scaling digital and analytics: setting bold targets and strategies, investing, setting up a flexible data and technical architecture, building skill sets, and implementing the right governance behind data and analytics programs. "Companies that successfully harness the potential of digital will be the first to capture breakthrough increases in top-line revenues, capture the next 10 to 15 percent of cost improvement and leapfrog ahead of the rest of the industry," the consultancy's analysts said.
Get more from a system
For steel service centers, "their main focus is inventory and tracking, making sure material gets to their customers as accurately and quickly as possible," says Dakota Baird, product owner, SigmaNEST, an advanced nesting software that offers a wide range of customizable, modular features for manufacturers. "CAD/CAM integration provides a lot more specific information about the general inventory items they have, like sizes and geometries—and not just weight, which is what they get from their standard ERP system."
SigmaNEST can import parts from any major CAD system, automatically sort them into tasks by material and machine, optimize material usage and machine motion, post programs to profile cutting machines, and track productivity from start to finish.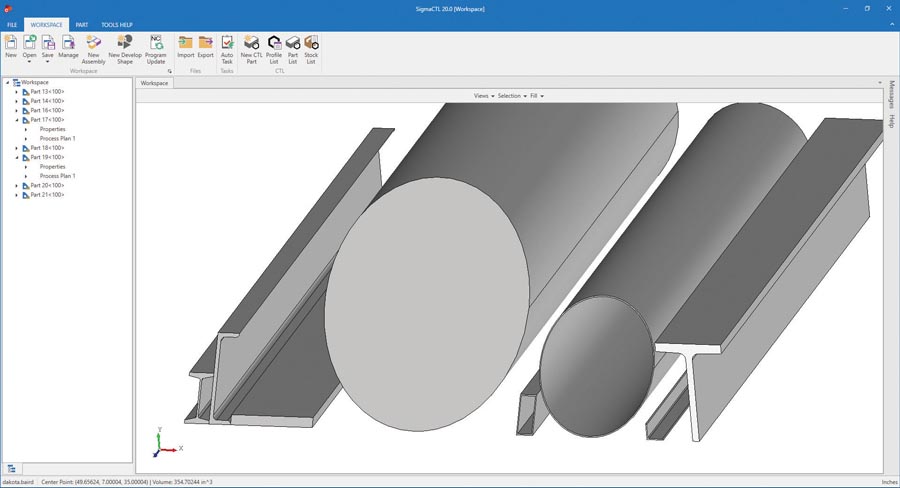 "One of the big advantages of introducing CAD/CAM software into the typical ERP mix is that you can look at large sheets or tubes and bars and have nesting software that's intelligent enough to know how to group or bundle the material so that it provides the most utilization and least amount of scrap," adds Wayne Cathers, product owner, SigmaNEST Business Systems. Cathers says that CAD/CAM integration also allows companies to manage scheduling of the entire production process, from single parts to entire nests, and can accurately estimate the time it will take to process parts. These types of tasks and insights "really aren't possible without integrating a CAD/CAM system, which recognizes parts that have been nested together and can communicate that information back to an ERP or MRP system."
These smart functions mean that customers no longer have to manually keep track of parts, and it makes it easier to shuffle jobs based on priority. "If you have a bunch of nests set up and then get a hot order, you have to find the nests that contain the hot part so they can be cut first," says Cathers. "I've seen companies go into a conference room, take all the pieces of paper with the programs they need to cut for the day, lay them on the conference table and pick out the hot parts. With scheduling software informed by CAD/CAM integration, we push a button and readjust the schedule."

Hassle-free communication
Cathers says a common misperception among customers is that CAD/CAM integration is going to require a lot of manual interaction and button clicking—because that's what they are currently doing in their day-to-day workflow. "That's definitely not the case. Since our suite of products all utilize a common database, they talk to each other very easily. We are able to automate a lot of the processes that are often perceived as overly complicated or require manual intervention."
SigmaNEST software helps control many different shop functions, including inventory purchasing, programing cutting machines, and moving material. "We work from the start with the customer to fully understand their business, how they operate and how they manage their data," says Baird. "We do that discovery process up front so we can ensure customers receive the software that can bring them the most benefit."
"We work with customers in all shapes and sizes, from small mom-and-pop shops to large, multi-site, umbrella corporations," adds Cathers. "A smaller shop or service center may not need all the pieces of software that we offer. Maybe they have a consistently light workflow, with only one or two big jobs at a time, and don't need all the power of a scheduling engine. If business grows, or we're talking with a larger company, we can start adding on packages like SigmaSCHEDULE."
Real-time updates
Next up for SigmaNEST is a new version release that "expands integration with our connected environment to include SigmaCTL," Baird says. "The next version will be able to track bar stock and structural steel inventory and integrate everything from quoting to scheduling to getting feedback about the materials that are cut and the remnants that are put back into the system."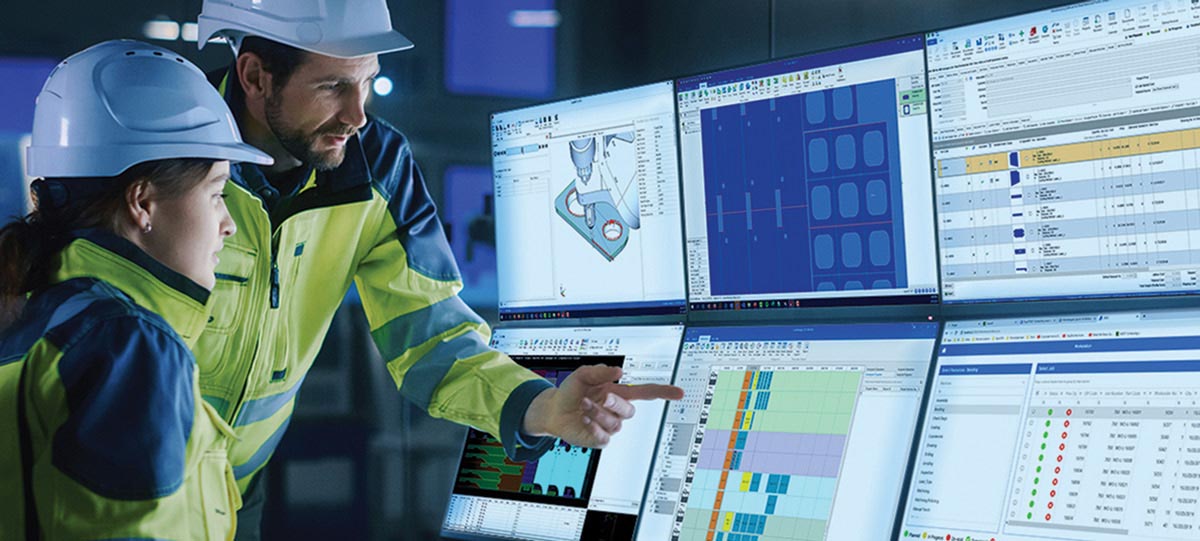 "One of the hardest pieces of information to get is insight into what's happening right now on the shop floor," Cathers notes. "Our shop floor products provide real-time feedback on any workstation, whether its cutting, bending, welding or painting. We can track all that production to know exactly what's being cut, what's being painted and what's going to be bent an hour from now." That real-time data can empower companies to answer customers' questions, especially in the case of a need-it-now order of parts, and keep track of inventory.
"With a fully integrated system, you don't have to go looking for the information. It's always just right in front of you," says Cathers. He points out that after implementing this type of system, companies can't even fathom returning to their previous methods since previously cumbersome tasks are now done with the click of a button. "Customers can't imagine going back to doing everything on paper or having an army of people to manage and schedule and complete all these tasks that the software just does automatically."
Published in Modern Metals, November 2021
"Shop Floor Feedback" by Lauren Duensing, Contributing Editor
https://digital.modernmetals.com/issue/november-2021/shop-floor-feedback/