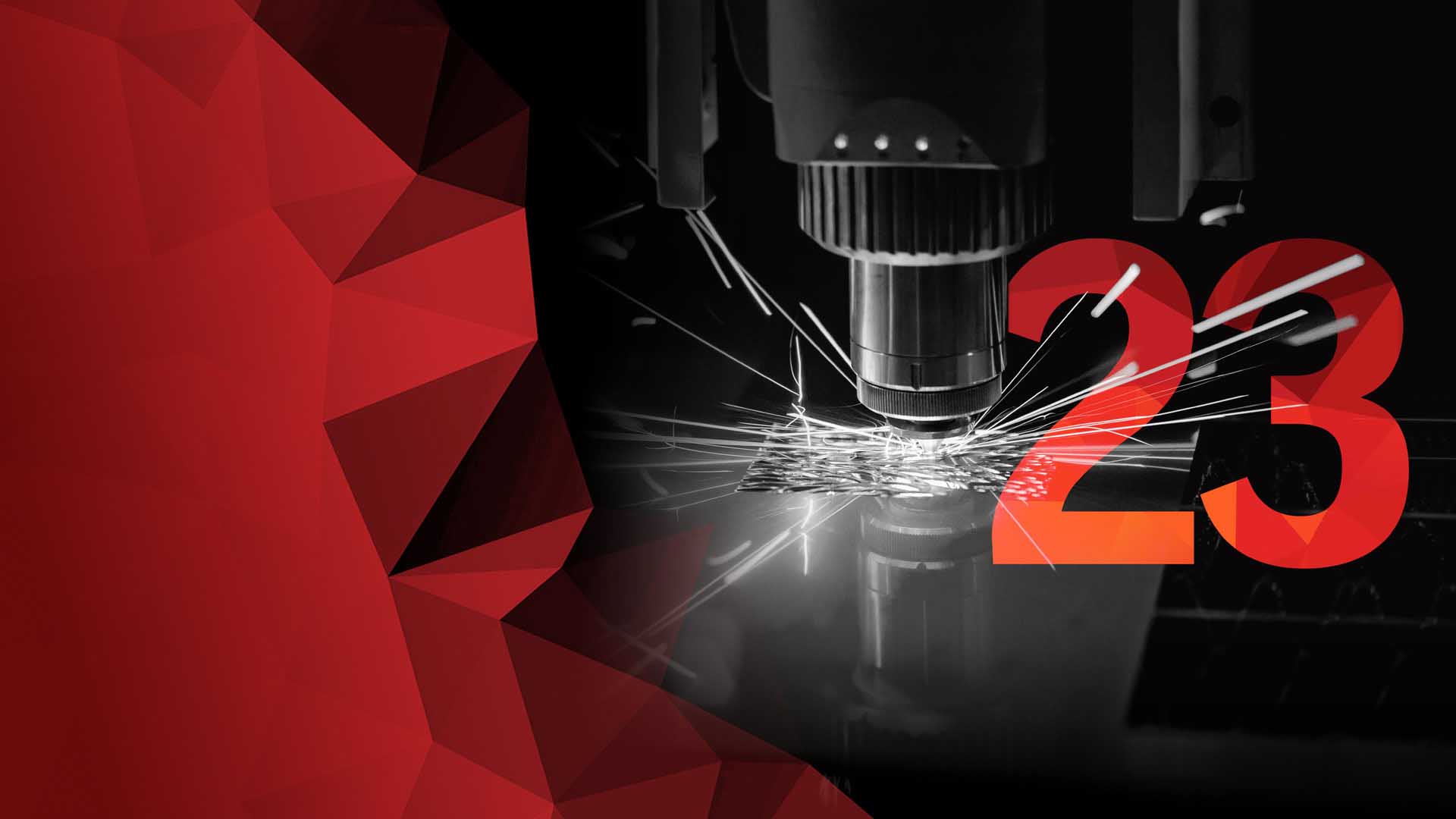 Latest Release – What's New
What's New in SigmaNEST 23
Redefined Nesting Strategies and Process Optimization for a Connected Shop
SigmaNEST Suite Version 23 delivers new CAD/CAM nesting strategies for real-world manufacturing that optimize part processing and workflow efficiency beyond classic nesting for material. The Connected Shop expands with three new management apps. Numerous UX enhancements offer greater control and ease the programming process.
Download Brochure
---
Nesting for Manufacturing
Bump for tooled punch parts, relaxed nesting for improved skeleton integrity, optimized nesting for process and NC mechanics beyond yield alone
Making life easier downstream has been a key focus of version 23 with several strategies for pushing the workflow for assemblies or secondary operations and uncluttering the shop floor. For example, Best Sheet with Mixed Grouping keeps parts of similar material together for those who program several days of work at once, or those who load sheets manually. Additionally, an enhanced Array function allows users to dynamically drag the arrays of parts for the required quantity of kits, assemblies, or fixed part configuration.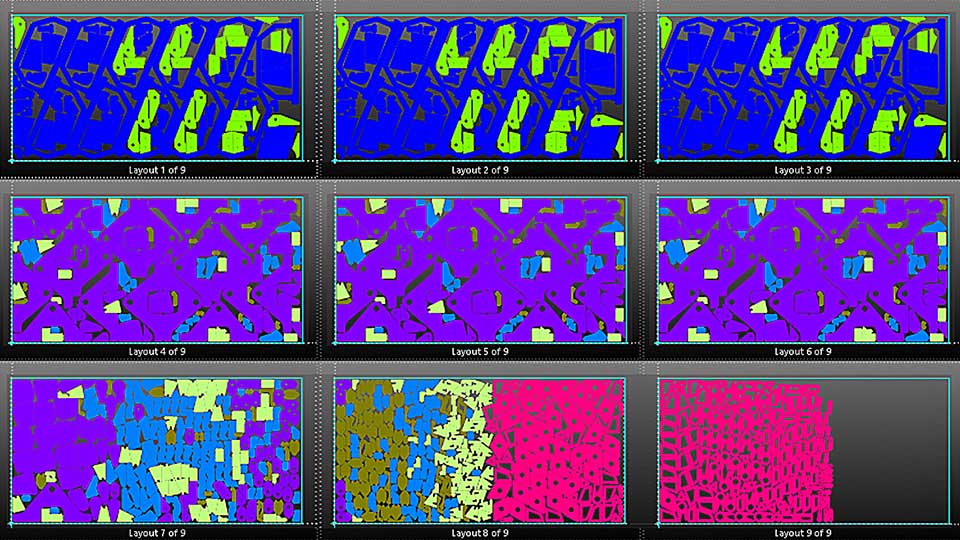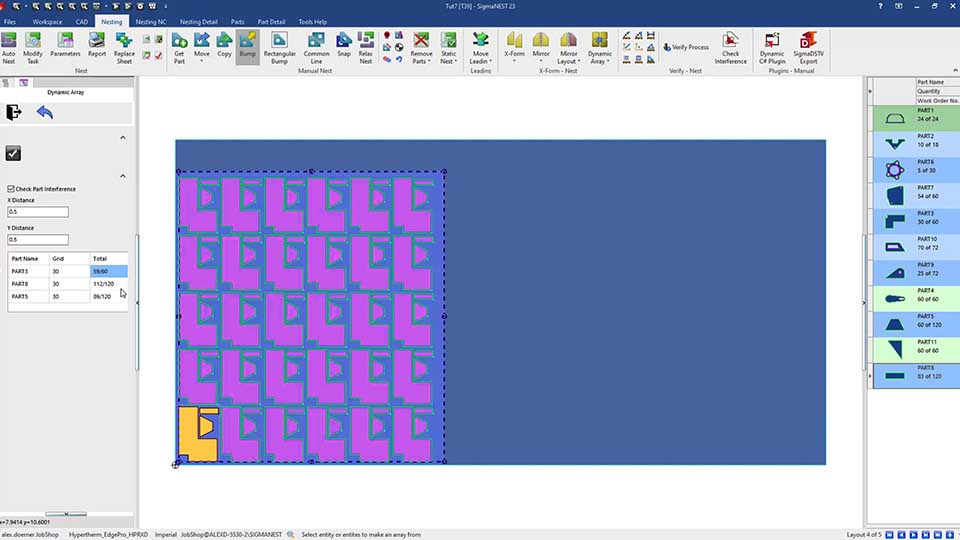 In a step toward simplifying the way to the best nesting results, several nesting features are now built in for HD Trueshape and HD Advanced Trueshape users, who will gain full access to stack nesting, multi-torch nesting for large parts, dynamic X & Y clearance, as well as improvements to Common Line nesting. Bump nesting updates include the ability to retain a boundary and avoid nesting within destructed notch areas, tool dependent bump boundaries, part rotation based on tooling, and common cut line bumping.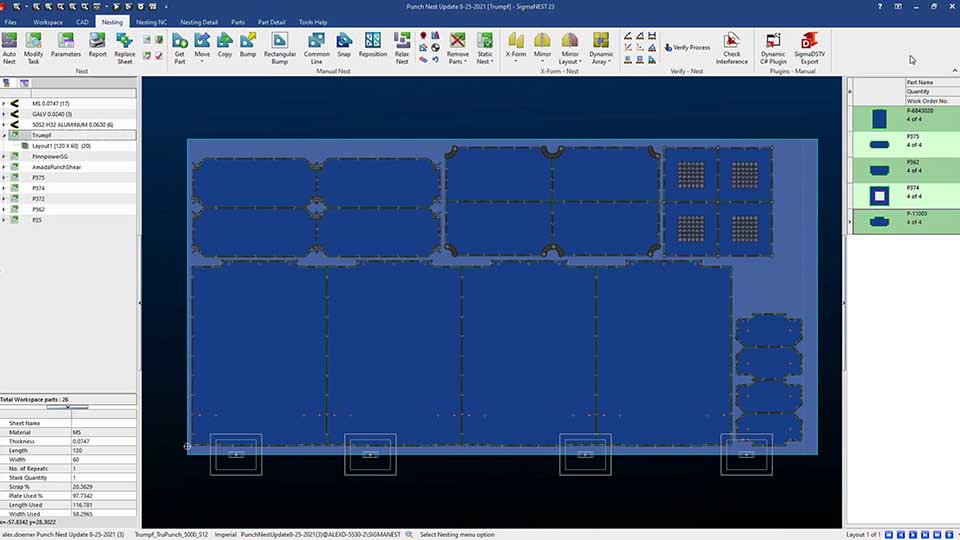 For the best in efficiency and quality, the brand new Relax Nest feature can spread parts out on the cropped area of a completed nest to create a stronger skeleton, reducing the risk of part tipping and part distortion from excess heat.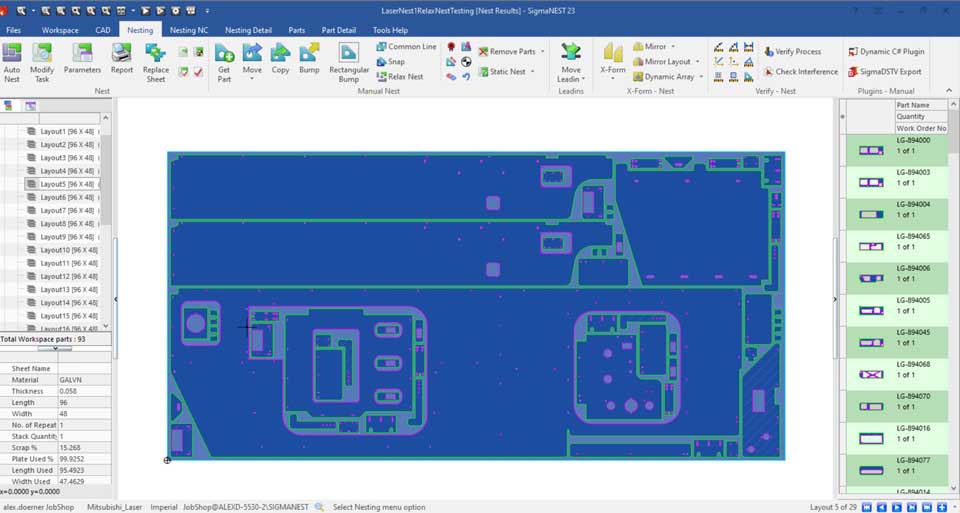 Several user experience enhancements allow users to optimize the process workflow as they profile cut rather than forcing them to start over to add the options for the nest, such as removal of pre-piercing operations, crop cut side selection, apply scrap cut preferences, or apply proven company standard defaults. Further enhancements include support for additional fly cut patterns and taper correction for 3D bevel and waterjet machines that adjust the tilt of the machine head during straight and bevel cuts.
Interactive nesting for Punch automates bump boundaries for each tool, improving the speed and precision of part placement. Punch patterns now allow for multiple contours. Single-click loading to the turret of tools (including entire pattern tool groups) using the new Quick Drop feature. Wheel-type tools can benefit from new ability to control the indexing angle of the tool independent of the direction of travel. Version 23 users will also benefit from more detailed tool reporting which includes tool used within each pattern, pattern membership for different tools, and actionable alerts for incomplete tooling and floating scrap.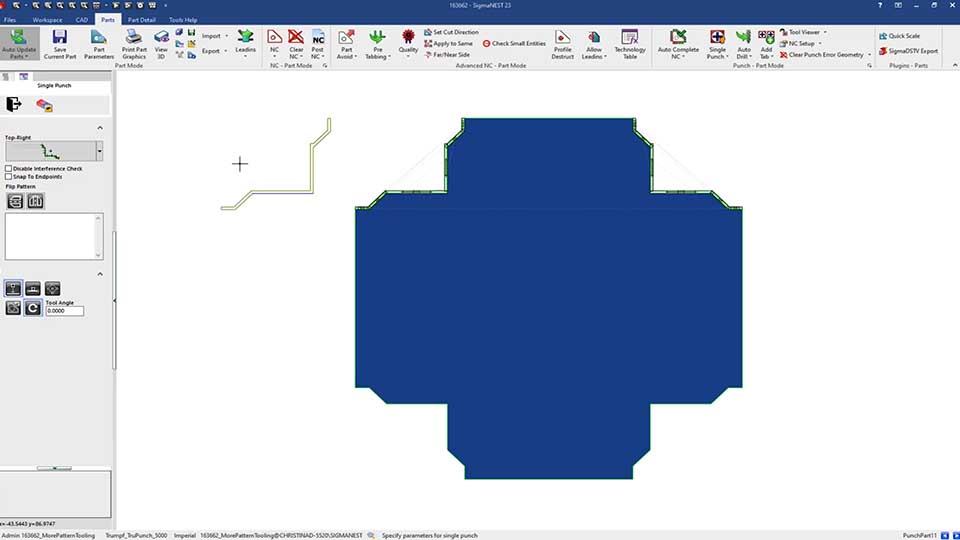 SigmaTUBE for SOLIDWORKS offer a better user interface with larger clearer icons, user-friendly report system with powerful editing tools to produce reports customized to the needs of your organization.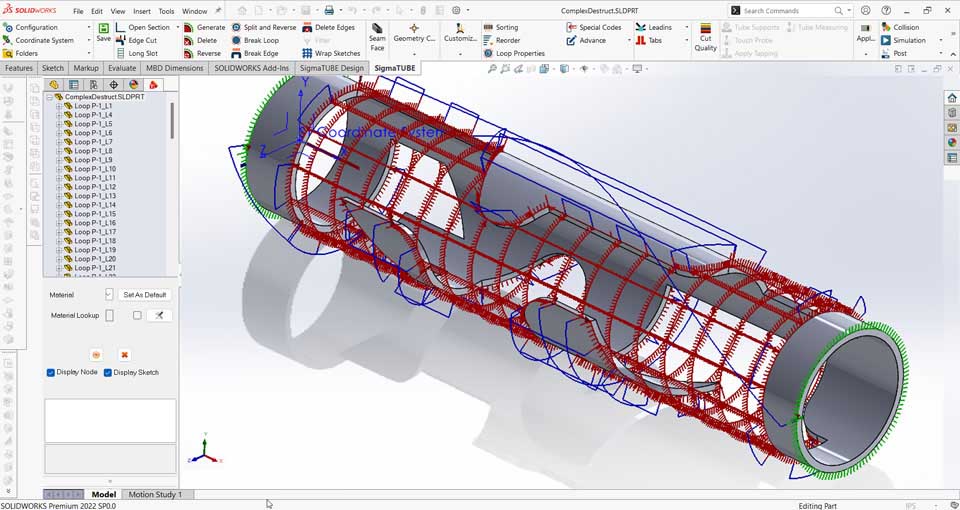 Additionally, SigmaTUBE for SOLIDWORKS expedites the programming process with the addition of automatic Auto Destruct to eliminate time-consuming manual work. The Dead Zone nesting option now supports open section profiles and single part nests, significantly increasing material yield by using previously scrapped areas of the stock. Mazak users will appreciate support for Auto Touch Probing rules which helps drive fully automated programming. Lastly, support for flat bar recognition offers new options for SOLIDWORKS users.
SigmaDEVELOP introduces a new shape to quickly produce the flat patterns for the step bend cone commonly used for utility/power transmission structures.
SigmaBEND AP ensures support for the latest CAD file types and the LVD Touch-B press brake controller, and automatic recognition for the film side of imported parts. SigmaBEND AP also imports XML profiles to automatically generate geometrical shapes Lastly, added support for filtering rules in batch and remote processing reduces the time required to program assemblies.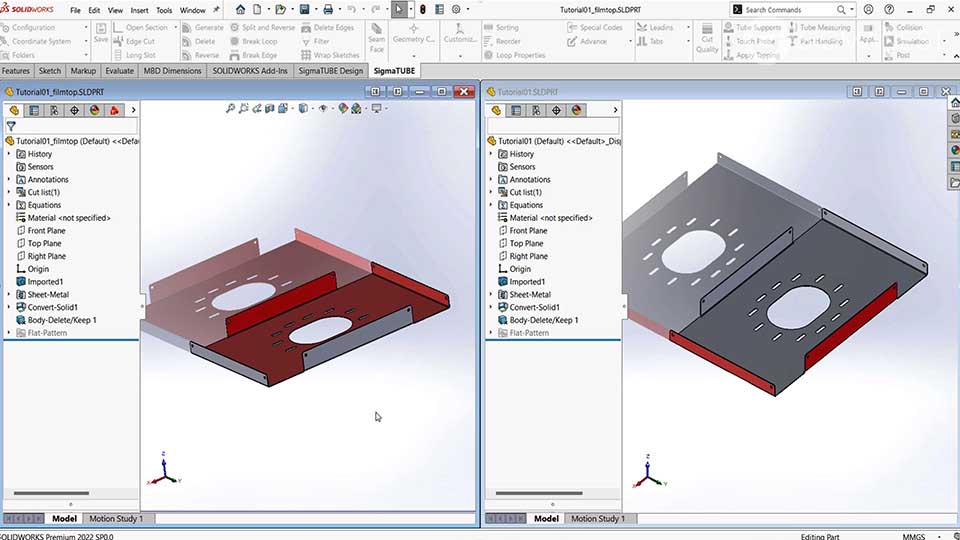 SimTrans is more powerful than ever and now supports enterprise control of distributive manufacturing between separate locations. This will benefit companies with multiple SimTrans installs and/or geographical sites requiring ERP data exchange. SimTrans now supports automatic part building and automatic part ordering for CTL parts. Significantly, an improved diagnostics system simplifies the implementation, setup, and troubleshooting of SimTrans providing more reliable operation and lower support costs.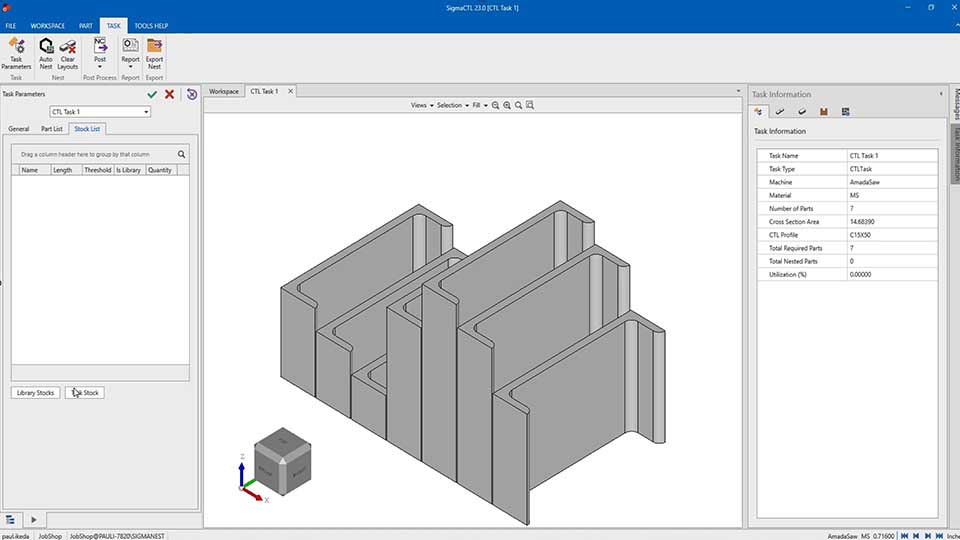 ---
Delivering the Ultimate User Experience
Fewer clicks, commonly used functions "at your fingertips," more granular control
Numerous UX enhancements help standardize product behavior and simplify usage including a new Multiview for Part Mode to split the view into 2-12 separate windows for programming parts side by side, Auto scale for Multiview layouts, and the ability to remembers zoom level and pan location when switching between tabs.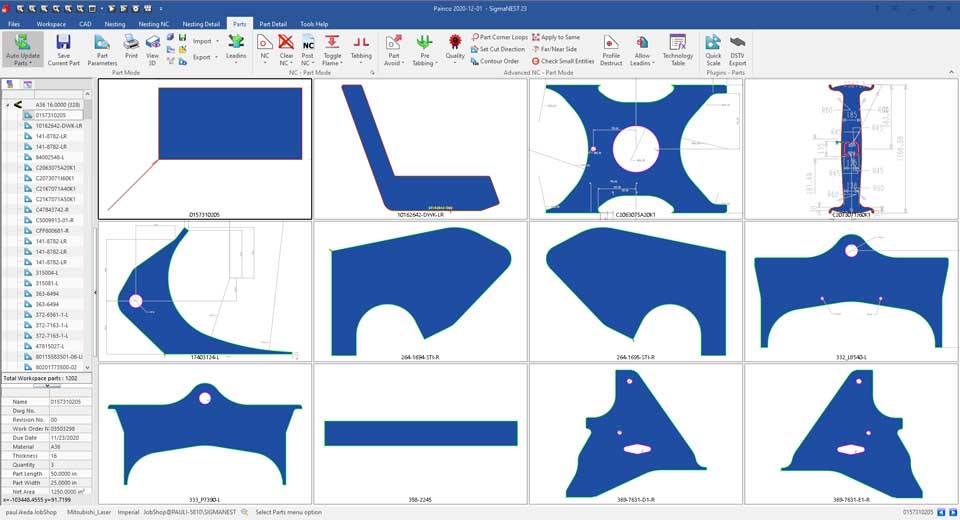 Version 23 makes work order management, report printing to dedicated devices, and lead in/out control for multiple layouts easier with both universal and granular control built into the updated user interface. Both recent and new SigmaNEST workspaces are now added to the Windows Taskbar menu for easy recall of recent or frequent workspaces, and a new Quick Key shortcut to repeat the last command are simple but powerful additions that improve user productivity.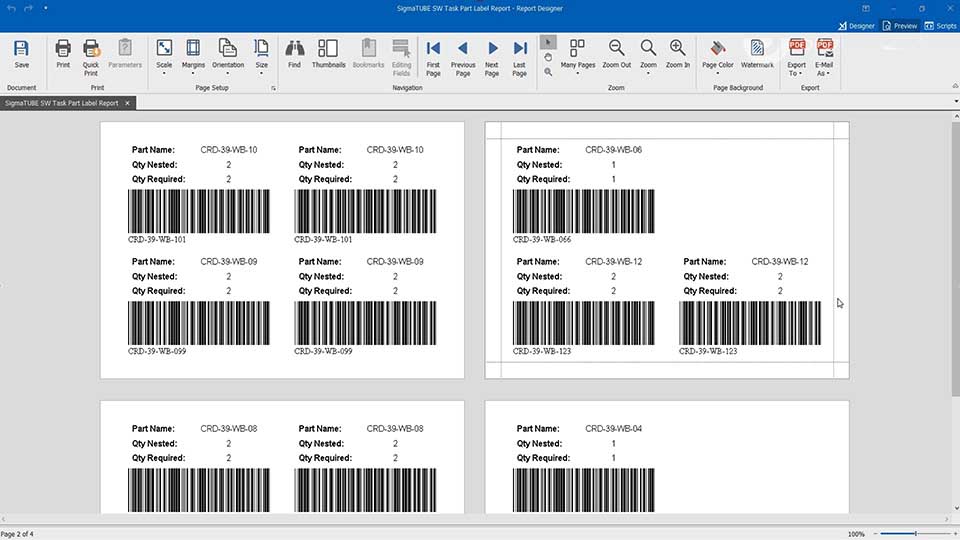 Importing remnants from CAD files is easier with the new Verify Geometry tool to identify and fix issues with the sheet geometry before nesting occurs. Also, the sheet location can now display warehouse options for clear organization and communication throughout the shop.
Version 23 improves the CAD experience with an easy-to-use Hatch Fill function to differentiate geometry and true type wording on the workspace. Four new dog bone reliefs are now available to notch the corners of close-fitting parts for easy assembly, vital for router users in the woodworking and furniture markets. This eliminates the need to have oversize slots or the need for hand work to clean the corners.
---
Expanding "The Connected Shop"
Deeper inter-product integrations, introducing new apps for Shop Clock, Quality Manager, Data Hub
The modular Connected Shop platform includes quoting, scheduling, logistics, and ERP/MRP connection to automate the workflow as a job progresses throughout the shop. SigmaQUOTE and SigmaMRP now provides capabilities to create and manage assemblies (B.O.M), to lock a price or add a placeholder for quotes and adds secure controls for the job and PO approval process. Version 23 of the Connected Shop boasts speed increases of up to 75%!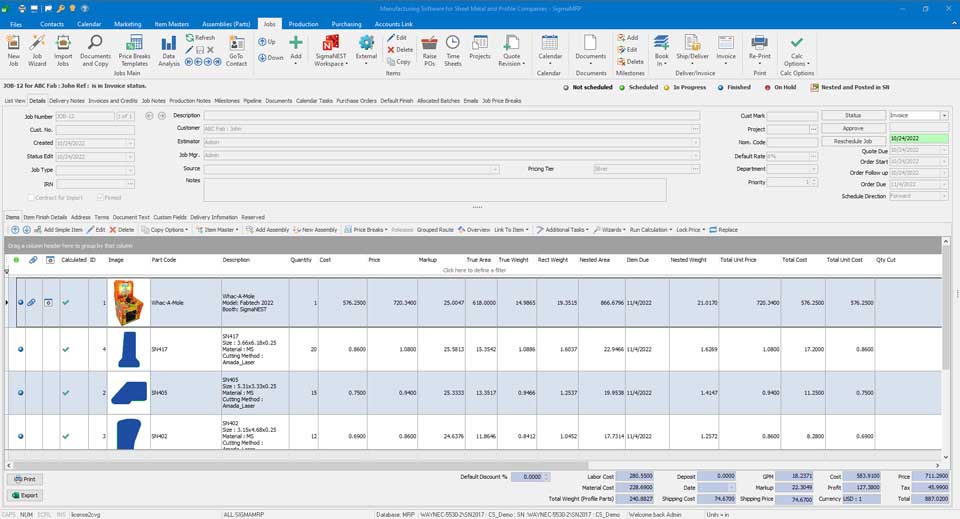 Managing an efficient workflow is simpler with enhanced SigmaSCHEDULE for nested operations and Load Manager 23 to control production, and with integrated Shop Manager apps for remote control of incoming and outgoing resources. Color Offload users will now benefit from the ability to update multiple programs at once that can run throughout a complete shift for true lights out processing. New Shop Manager developments include three new Connected Shop products – Shop Clock for employee time and attendance tracking, Data Hub for accessing job-related documents anywhere on the shop from any web browsing device, and Quality Manager (QMS) to record and manage non-conformance reports and corrective action plans to ensure manufacturing excellence and ISO 9001 compliance. With data integrity and network security in mind, the version 23 suite now supports Transport Layer Security (TLS) 1.2 protocol to authenticate and encrypt data between endpoint devices and applications.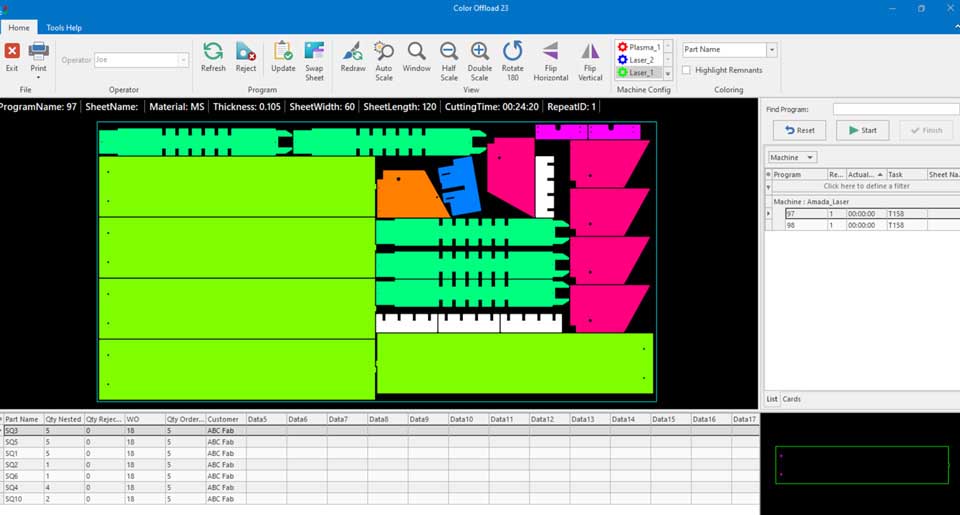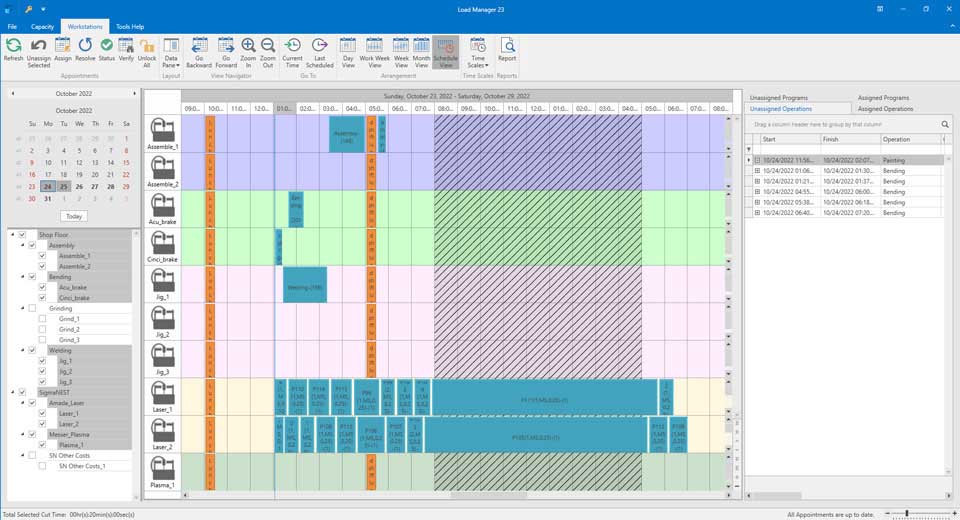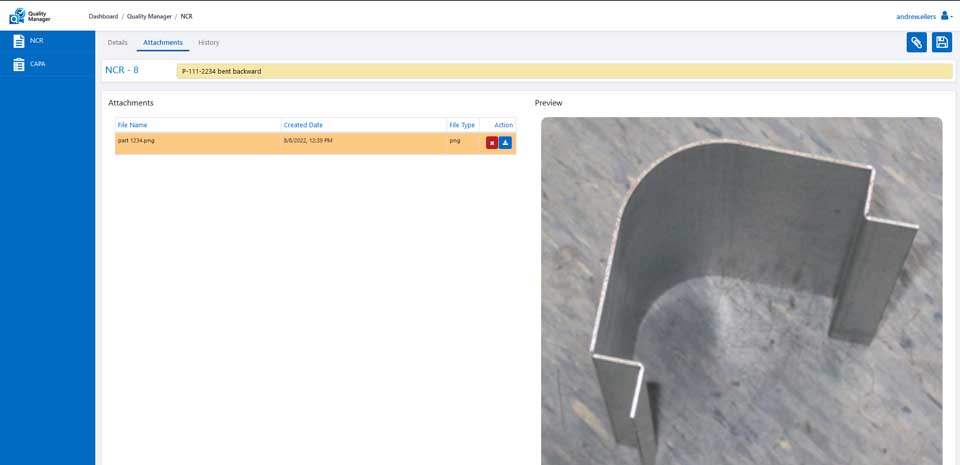 Product Highlight Videos
SigmaNEST 23 - Bump with Punch Tooling
SigmaNEST 23 - Punch Nest Common Cut
SigmaNEST 23 - Relax Nest
SigmaNEST 23 - Dynamic Array Enhancements
SigmaNEST 23 - Flycut Groups
SigmaNEST 23 - Taper Correction
SigmaNEST 23 - AutoNC Scrap Cut Preferences
SigmaNEST 23 - DogBone Corner Reliefs
SigmaNEST 23 - Hatch File Geometry
SigmaNEST 23 - Quality Manager
SigmaNEST 23 - Shop Clock
SigmaTUBE 23 for SolidWorks - Auto Touch Probe Rules
SigmaTUBE 23 for SolidWorks - New Report Engine
SigmaTUBE 23 for SolidWorks - Dead Zone Nesting Enhancements
SigmaTUBE 23 for SolidWorks - Auto Destruct