SigmaTUBE SW
Complete Tube and Pipe Nesting within SOLIDWORKS
SigmaTUBE SW is Easy, Intelligent, Versatile
With the ability to break down an entire tube assembly, SigmaTUBE SW can separate parts by nesting tasks, nest each part for optimum yield, and apply advanced toolpath techniques all in a matter of seconds. SigmaTUBE software supports laser and plasma cutting for tubes of any shape along with structural materials from C-channel to H-beam.
Feature Recognition for Assembly Importing and Work Orders
SigmaTUBE SW scans the entire assembly and identifies tube sections and features to be cut. Parts are automatically grouped according to cutting profiles and materials. Assembly quoting and auto tasking simplify work orders and process plans for the entire assemblies, and provides a customizable report with all of the job details.
Flexible part creation
Simple and powerful toolpathing
Fully 3D environment
Easy reports and data management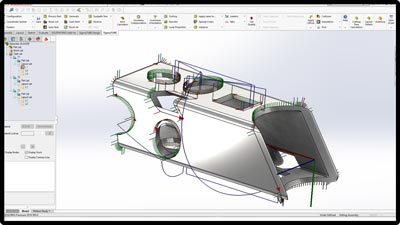 Flexible Part Creation
SigmaTUBE imports your favorite generic and native CAD 3D parts and assemblies
Leverage the parametric shape library to instantly create tube and pipe parts
Advanced profile and feature recognition to automatically group similar parts for nesting and cutting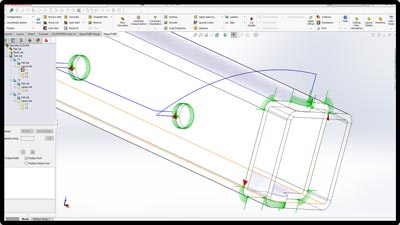 Simple and Powerful Toolpathing
Automatic and manual control for cutting quality
One-click weld preparation cuts for pipe joints
Seamless toolpath compensation for non-bevel machines
Common-line cutting feature reduces time and pierce points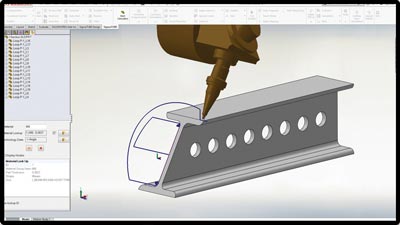 3D Environment
Instant and clear visualization of your machine head and nested parts including rapids
In-depth edit and modification controls directly on the part or nest
Easily import large assemblies with a variety of parts and switch between assembly, part, and nest 3D view

= Module Included,

= Module Optional
Essentials
Techno
PowerPack
Geometry Modules

Generate standard dimension driven tube shapes with miters, copes, and common tube assembly structures.

Toolpath Modules

Automatic toolpath generation for single part runs.

Generate geometry compensated toolpath to trim away extra material on bevel geometry for a perfect weld fit without cutting true bevels.

Generate 5-axis toolpath for bevel cutting machines for a true to model finish.

Program advanced NC capabilities like auto cut quality and toolpath generation for open section toolpath.

Nesting Modules

Length-based nesting for optimum material yield on straight end cut geometries.

Improved material yield by flipping and rotating parts for a true-to-geometry nest for miter, cope, and complex geometry end cuts.

1-D and Best Stick Nesting for higher efficiency linear nesting and optimized stock selection.

Productivity Modules (Available in future update)

Complete material inventory management with remnant tracking

Streamlined job tracking with scheduling, autoloading parts for nesting, and updating orders with actual parts cut.