SimTrans
Seamless Real-Time Data Translator
Share Data Across the Business
SimTrans is an transaction manager that bridges the gap between different software systems from CAD/CAM nesting to shop floor automation and other business systems. Real-time processing and feedback streamlines the workflow throughout the process as the software communicates between different systems through database transactions.
Continuous and Real Time Linking
When a new order is entered into the MRP system, SimTrans automatically communicates the information to your applications in real-time. As a result this automation allows work order tracking through real-time updates and feedback.
Above all the software creates a continuous data link with sales, inventory, engineering, scheduling, production and MRP or ERP system.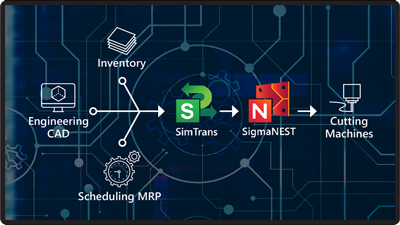 Continuous Communication
Real-time data exchange between SigmaTEK software and business systems gives you accurate and immediate information
You can view the status of each order from any device at any stage of manufacturing process with SimTrans
You receive automated reports via email to stay up to date
With the transaction table, new sheets can be added to stock, existing sheets can be modified (if they are not already in process), and existing orders can be modified or canceled.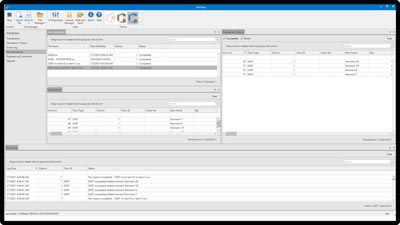 Ultimate Productivity
Automatically transfer part and stock information eliminating time-consuming manual entry with SimTrans
Set up automatic 2D and 3D CAD conversion to quickly transform files into ready-to-nest parts to process orders faster
SimTrans drastically reduce human error by automating all data exchange
Achieve lights out, full end-to-end automatic machine operation using batch operations
SimTrans supplies data to business systems at the different phases of the order process, such as work order completion, material consumption levels, etc.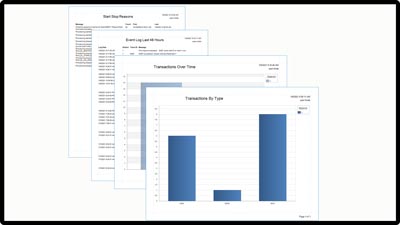 Universal Fit
Industry standard database format (Microsoft SQL Server) interfaces with any type of business systems
Compatible with TXT, CSV, and other common file types making setup a breeze
More than 40 ready-to-use transaction types
Installation, training, and consulting for SimTrans available onsite or remote