SIGMATEK ELEVATES BUSINESS SYSTEMS SUITE TO VERSION 20
SigmaTEK Systems is pleased to announce the addition of its Business Systems Suite integrated alongside the flagship SigmaNEST product portfolio in Version 20 Service Pack 2 (SP2). This latest release of advanced CAD/CAM, Shop Floor Control, and now, Business Systems, brings a full range of fabrication optimization and data management features inside one familiar user interface.
Familiarity and ergonomics play a large part in programming speed and user ease. The version 20 user interface employs greatly improved navigation and a universal easy-reading display throughout all SigmaTEK products to increase user focus and stamina.
SigmaTEK's new quoting tool, SigmaQUOTE, is available as both a freestanding application for the quoting department as well as an add-on module for SigmaNEST programmers. SigmaQUOTE uses the SigmaNEST nesting engine, part database, and costing parameters to deliver accurate quotes after a speedy import of part geometry. Full bi-directional integration with SigmaSUITE products offers greater flexibility for a real world production workflow. Quote workspaces can be modified after job creation, and parts can be added, removed, and even re-nested without recreating or reimporting the quote, and then pushed directly into production work orders.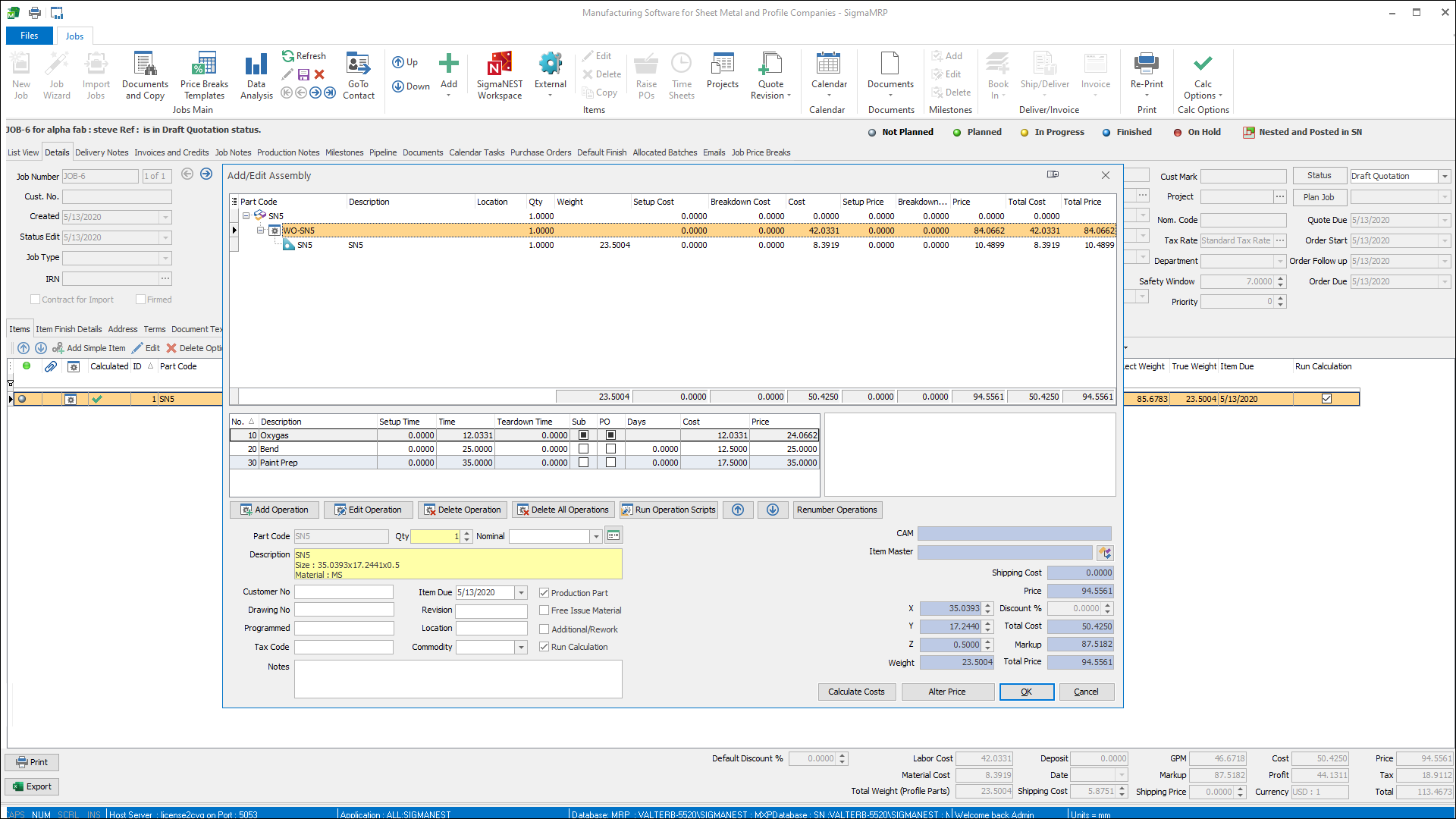 As the core of SigmaTEK business system products, SigmaMRP provides single-source job management throughout manufacturing, from quotation to delivery and invoicing. SigmaMRP integrates with both SigmaSUITE products and other business systems to administer critical business data—inventory, transactions, customers, suppliers, job status, cost, profitability—and now adds several key improvements.
SigmaMRP's scheduling engine provides better performance for jobs with complex assemblies and sub-assemblies, in addition to subcontract operations. New time controls offer scheduling flexibility around work shifts and employee break periods.
The logistics module streamlines a myriad of shipping details such as cost, markups, and taxes with automatic cost calculation based on weight of line items in each job. Support for multiple couriers allows individually configured rates for each chosen carrier.
The fully-featured inventory module now allows allocation of material and stock per BOM item for improved granularity, as well as allocation by batch for greater flexibility. Complete integration with SigmaNEST ensures stock is dynamically adjusted when programs are posted, deleted, or updated mid-production.
New developments in SigmaTEK shop floor offerings increase the capacity for operators to make the right call on the spot, with access to part documents, or the option to book remnants and sheets back to inventory, or create a new job for rejected parts. SigmaLIFT paperless tracking software is now a web application allowing flexibility for remote barcode scanning, and a redesigned display that shows all available batches for transfer.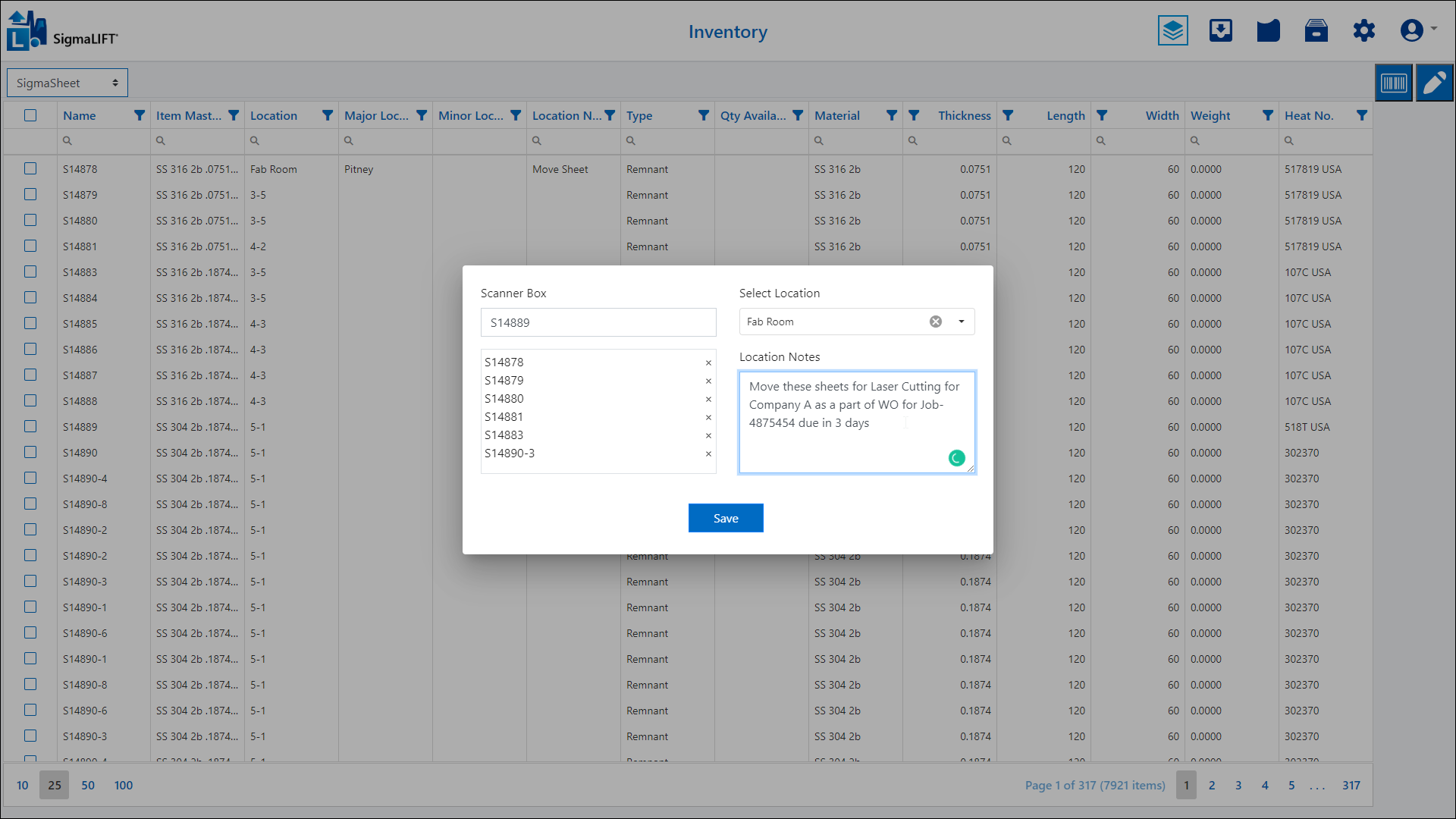 SimTrans works in the background to create a seamless data link from SigmaTEK applications to sales, inventory, engineering, scheduling, production and MRP or ERP systems. SimTrans supplies data to business systems at different phases of the order process, such as work order completion, material consumption levels, and automatic machine operation using batch operations.
In the latest release, CAD/CAM products have added profiling and tooling features, and batch commands for work efficiency, and increased machine support. Enhancements for SigmaBEND include improved bend ID and sequence change information, additional support for Accurpress press brakes, and batch commands for part processing and press brake part reports. SigmaCTL and SigmaDEVELOP have both been updated with user enhancements which include improved GUI side panels for all shapes from within the 'Pipes with Taps' section, and significant batch capabilities to support part quantity in automation, stock list management, and program posting.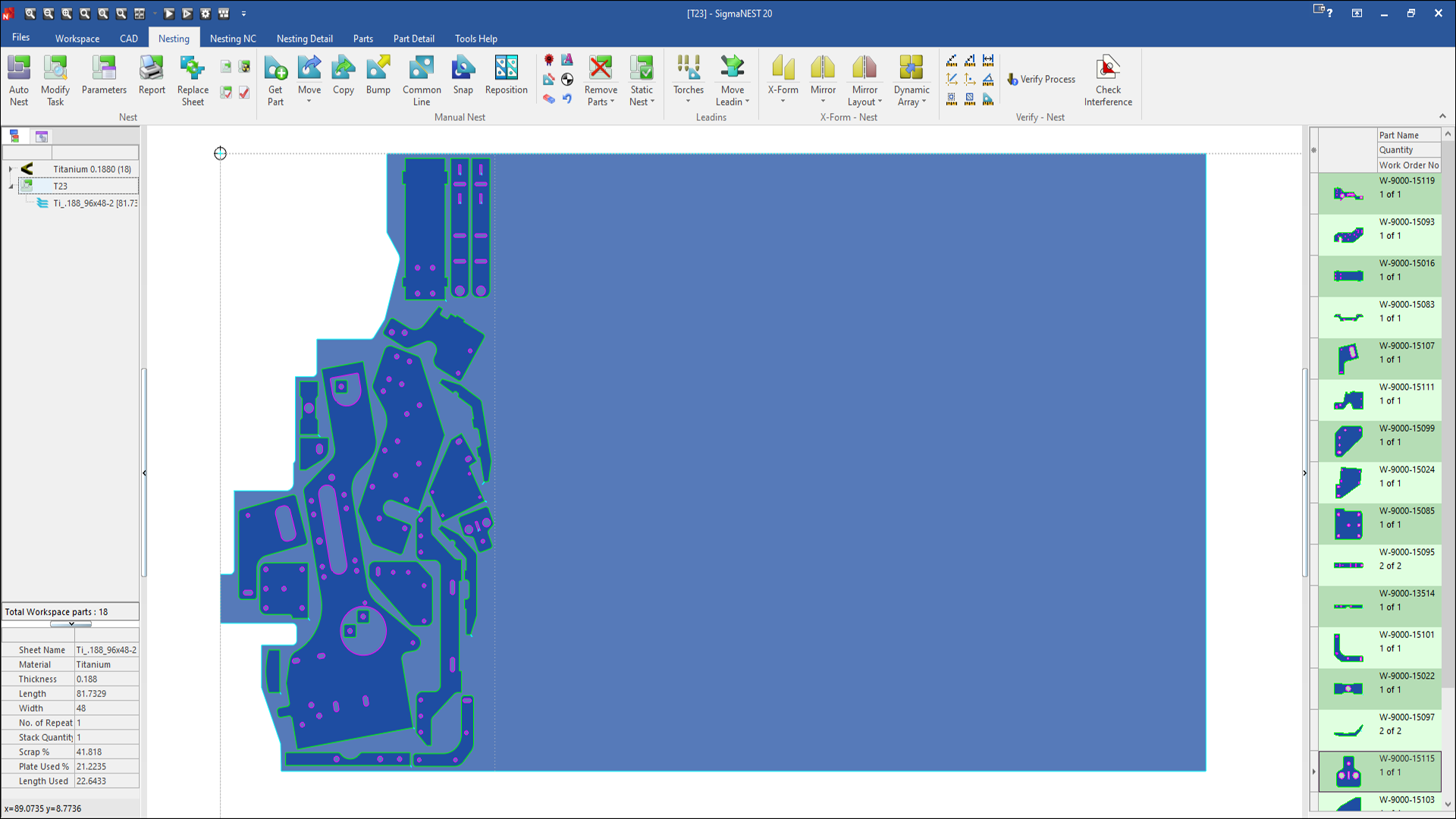 Glenn Durham, Vice President, of Engineering at SigmaTEK made the introduction, saying, "It is exciting to bring the entire SigmaTEK Suite to a new level with this release of the Business Systems toolset. The way customers interact with technology has real ergonomic and efficiency impacts on their business — it needs to look great AND function powerfully. Now more than ever, our engineers are focused on solutions that ensure business success while providing the most enjoyable user experience."